Introduction
e.Halo is an app for airline employees, their dependents, and travel guests. It provides direct and automated access into non-rev systems. e.Halo has two modes:
Interactive mode
Gofer mode
Interactive Mode
In Interactive mode, e.Halo will connect to Ttravel Planner in seconds, where you can interact with the system like you do from your desktop computer. e.Halo remembers your logon information. To use Interactive mode, press the interactive tab on the bottom of the screen, and then press Press To Connect. Interact with the non-rev system as you would on a desktop computer, and press Done when you are finished.
Gofer Mode
Gofers are e.Halo's way of automatically retrieving information from non-rev sites. Multiple Gofers can be configured and then processed at one time. The results are then saved off-line. The results can also be emailed or printed. One button press and e.Halo will automatically connect and update previous Gofer results to the latest information.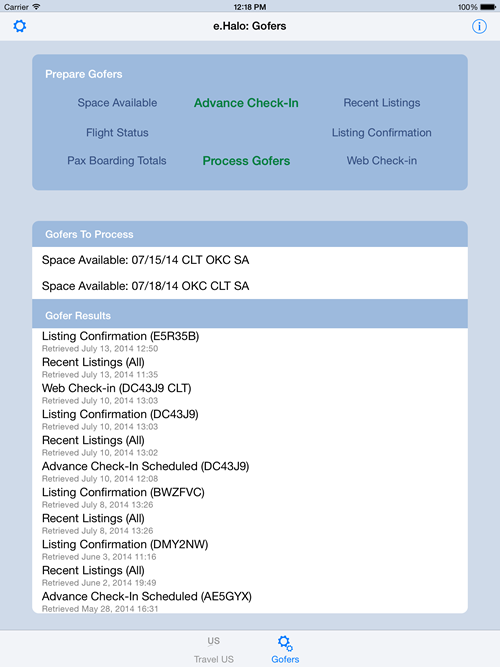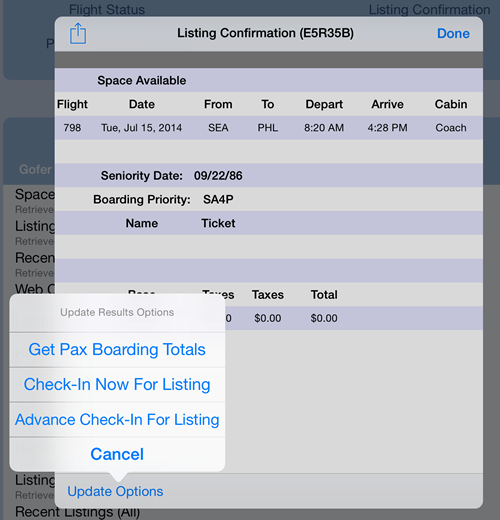 Deleting Gofer Results
You can delete either a Gofer Result, or a Gofer that is waiting to be processed. Delete a Gofer by swiping with your finger from left to right over the desired Gofer and pressing the Delete button.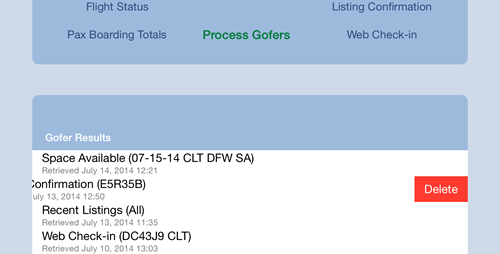 Using Gofers
Prepare as many Gofers as you like each time you intend to process. After you select and prepare your Gofers, they will be listed as "Gofers To Process." If you want to remove a prepared Gofer prior to processing it, use the Edit/Delete buttons.
When you are ready to process your Gofers, press the Process Gofers button. You will need to have a working Wi-Fi or 3G connection to the Internet prior to processing Gofers.
Travel Planner Gofers (AA)
Space Available Gofer

The Space Available Gofer will retrieve itineraries and open seat counts for any valid city pair on a valid date. Use 3-letter city codes for the departure and arrival city.

Web Check-in Gofer

The Web Check-in Gofer will quickly immmedately check you in for a valid listing between 1 and 24 hours before departure. The results will display your check-in confirmation.

Intinerary for PNR Gofer

The Itinerary for PNR Gofer will retrieve any valid itinerary from a departure city. PNR codes are six-character alphanumeric codes. The results will display the itinerary.

Flight Status Gofer

The Flight Status Gofer will retrieve the flight status for any valid flight. The results will display the current status, as well as times, and gate information.

Standby List Gofer

The Standby List Gofer will retrieve the standby list for non-rev priority for any valid flight.

Recycle Password Gofer

The Recycle Password Gofer will take your current AA password and recycle it so that it is valid for an additional 90 days. Read more about Recycle Password.
Gofer Results
Not only are Gofers the easiest and fastest way to information from non-rev systems, they also produce results that can be saved off-line. Gofer results are easy to read and color coded to show how likely a flight can be used for non-reving.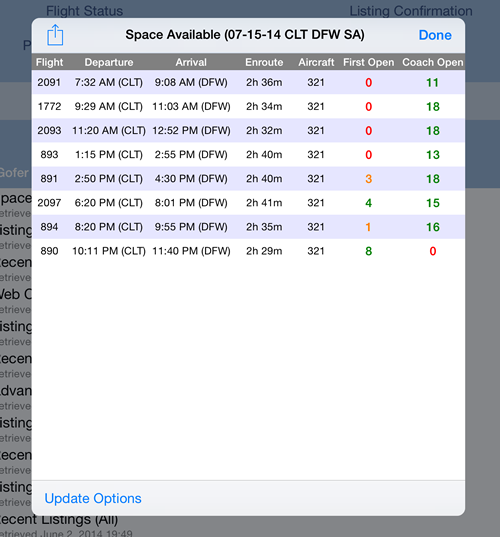 Gofer results can also be copied to the iPad pasteboard, emailed, or printed.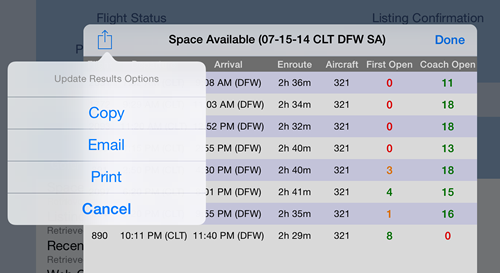 Copy Gofer To Pasteboard
From the Action Items button in the toolbar, you can copy Gofer results to the iPad Pasteboard. Select the Gofer in the Gofer Results list, and press the Action, Copy buttons. The results can be pasted into any app that accepts pasted text.
Email Gofer Results
From the Action Items button in the toolbar, you can email Gofer results to any valid email address. Select the Gofer in the Gofer Results list, press the Action, Email buttons, and fill in the email address.
Print Gofer Results
From the Action Items button in the toolbar, you can print Gofer results to an AirPrint printer. Select the Gofer in the Gofer Results list, press the Action, Print buttons, and select the printer. Make sure that you have a compatible AirPrint printer configured and turned on.
Update Gofers
Most Gofer Results can be automatically updated by opening the desired Gofer results and pressing the Update Results button.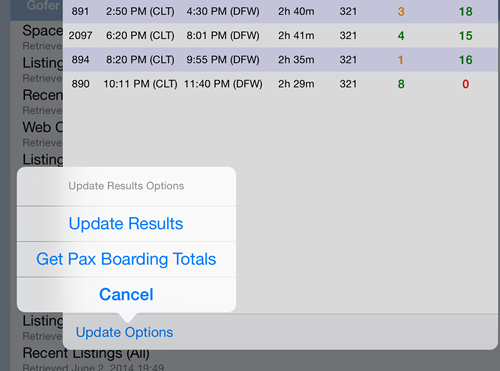 Gofer Errors
If a Gofer is configured with invalid information (invalid date, city pairs, flight, listing confirmation number, etc.), the Gofer results will display "Error."
ACI
Help and Technical Support
Press the Information and Help button to access app version information and Help online. You can also contact SafiSoft directly at support@safisoft.com. Be sure to include "e.Halo" in the email subject line, as well as your installed version number as listed in the information view.
Disclaimer:
No warranty is implied for e.Halo. The author is not responsible for information displayed in e.Halo
Copyright © 2018 SafiSoft All Rights Reserved
Apple, the Apple logo, iPod, and iTunes are trademarks of Apple Inc., registered in the U.S. and other countries.
iPhone, iPad and iPod touch are trademarks of Apple Inc.