Halo is a stand-alone web browser created especially for AA's Employee Travel Planner. Its main function is to provide fast access to non-rev information. Halo does not require any other program to work. As long as you have an Internet connection, you can get to the non-rev systems without having to remember user IDs, passwords, etc. In addition, because some non-rev information is best saved off-line, Halo provides automated gofers.
For Web Check-In, Halo provides automated Advance Check-In (ACI) where you can configure Halo to check you in exactly 24 hours in advance regardless of where you are or whether your computer is on or not. For check-in between 24 hours and 1 hour before departure, Halo provides an easy to use Check-In Now feature.
Halo's gofers can take your settings and grab information from AA's Travel Planner, manipulate it in various ways, and then save that information in an easy-to-use format for your review off-line.
Halo is a stand-alone program. You don't need any other software for Halo. It is not a mere scripting program – it is a stand-alone Windows web browser.
All fields are required for Halo to function correctly.
| | |
| --- | --- |
| AA ID | 6 digit AA ID/employee number |
| Halo License Key | License Key sent by email with your order |
| AA Password | AA password for accessing Travel Planner |
| Email | Your email address (for check-in emails) |
Note: For information on recycling your AA password see Recycle AA Password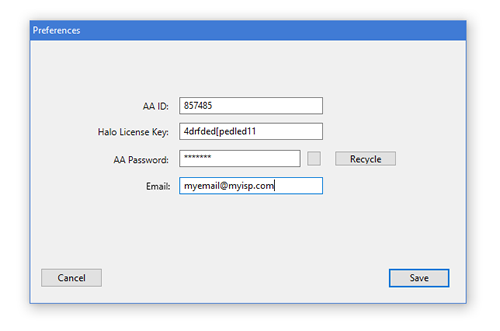 AA's System Access Manager (SAM) maintains your AA password for all AA web functions (WebMail, Travel Planner, Jetnet, etc.). Your AA password expires every 90 days, which sometimes makes it difficult to remember what your current AA password is.
Halo can "recycle" your current AA password to make it active once again for 90 more days. It does this by changing your AA password multiple times until it is able to change your password back to the current desired password.
At any time, you can recycle your password by selecting Halo's File, Recycle Password menu.
If you chose to not recycle your password, you will need to change it in AA's System Access Manager and also in Halo's Preferences. SAM can be found here: https://sam.aa.com/idm/user/main.jsp
Note: if you change your password in AA's System Access Manager, you must enter the new password into Halo's Preferences. All Advance Check-Ins will also need to be canceled and rescheduled in order to have your new AA password to be used for Advance Check-In. If you use Recycle Password, you will not need to do this.
The AA Travel Planner link in the sidebar will automatically logon to Travel Planner. Once you are in Travel Planner, you can interact with it in the way that you would with any web browser.
To print any displayed, click the Print toolbar button.
To log off Travel Planner, simply select a different link in the sidebar, or close Halo.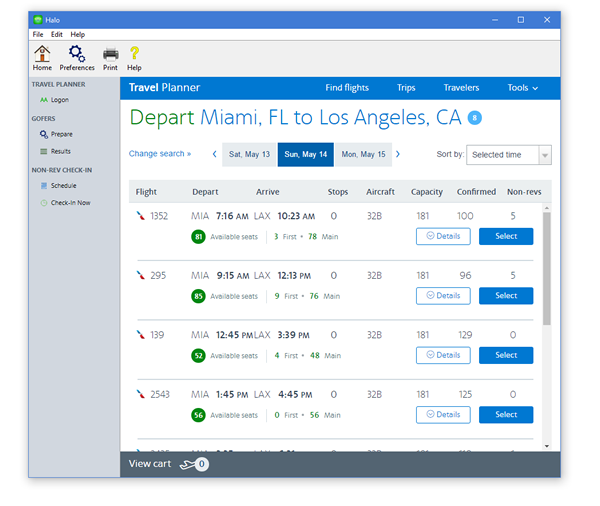 Gofers are an automated feature for retrieving specific information from AA's Travel Planner. Multiple gofers can be prepared and the results saved to the Gofer Results view where they are saved off-line.
Select the Prepare link
Select the Gofer Type menu
Enter parameters for the selected gofer (date, cities, etc.)
Click Add This Gofer
Repeat for any additional gofers desired
To remove a gofer request, select the prepared gofer in the list and click the – (delete) button.
When you are finished preparing gofers, click the Go Get Gofers button
When all the gofers are retrieved, the Gofer Results view will be selected.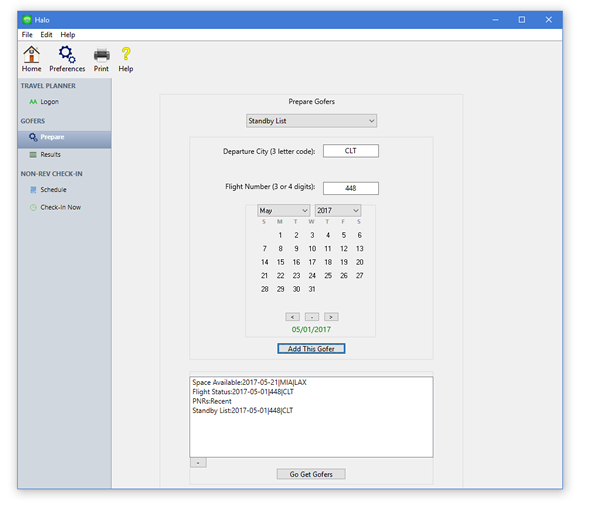 Select any of the listed gofer results to view. Click the Print toolbar button to print any displayed gofer result.
Results are saved off-line until they are deleted. The displayed gofer results can be updated in various ways. To update a gofer, select it and then select in the Update Results Options menu.
Update Results Options
Using the Update Results Options menu, you will be able to automate processes that are not available to when manually interacting with the non-rev system. For instance, a space available gofer results can be automatically updated to show current space available, or it can be used to automatically retrieve all standby lists for each flight listed in the space available gofer results.
Other examples of using Update Results Options:
Standby List can be updated to the most current list
Space Available can be updated to the most current status
Advance Check-In for a retrieved listing
Check-In Now for a retrieved listing
Get the Standby List for a PNR
Get the Flight Status for each flight in a PNR
Get boarding passes for each passenger for a PNR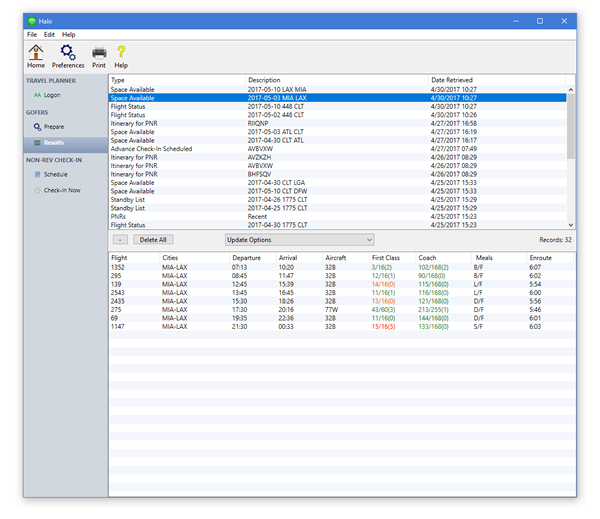 Advance Check-In (ACI) is a feature that takes a user's entries (key strokes, selections, etc.), and then executes them 24 hours before a valid domestic flight. ACI is not a paid check-in service; it is a free feature within Halo. There is no guarantee for this free feature.
If you are going to be available to use Web Check-In 24 hours before your flight, you should use Halo Check-In Now link in the sidebar. It will check you in immediately, and you will also know immediately if there were any errors during the check-in process. ACI should not be used if you are inside 24 hours before a flight.
If you are not going to be available 24 before a flight to check-in, the best way to use ACI is to first logon to AA's Travel Planner and make your non-rev listing exists and has the flights and dates you want. Make note of your confirmation code (PNR). Then follow these steps:
Click the Prepare link in the sidebar
Prepare a Listing Confirmation gofer with the PNR for your non-rev flight(s)
Click the Go Get Gofers button
After Halo retrieves your listing confirmation gofer, select it in Gofer Results
With your listing confirmation gofer displayed, select the Update Results Options menu
From Update Results Options, select Advance Check-In for Listing option
The ACI view will display. Confirm the date, time, airports, and enter your email address.
Click the Schedule Advance Check-In button
The scheduled ACI will appear in the Gofer Results list. From there you can open it up and the Update Results Options will include a selection to Cancel the scheduled ACI.
Check your email for an "ACI Scheduled" message
24 hours before your flight, you should receive either an "ACI Check-In Confirmation" email, or an "ACI Error" email if ACI was unable to check you in with Web Check-In
If you are sure of the details of your confirmation listing (PNR), you can schedule an ACI yourself by clicking the Schedule link in the sidebar.
Some important considerations for ACI:
Advance Check-In requires precise entries. Make sure all of your entries for an ACI are accurate before scheduling it. ACI will not validate your entries beyond validating the departure time. Any incorrect entry will cause a scheduled ACI to fail – too late for you to check-in exactly 24 hours in advance.
Advance Check-In and Check-In Now can only be used for domestic listings. If there are any international legs in your listing, the check-in process will fail.
Enter the exact local departure date and time from the airport of departure. Do not set the date or time for when you want to check in. ACI knows when to check in - it knows to adjust all dates and times for time zones etc.
You only need to schedule an ACI for the first leg of a PNR for any given day.
All passengers for listed in a PNR will be checked in by ACI.
If your AA password changes between the time you schedule an ACI and it checks you in, your check-in will fail. You must keep your same AA password recycled or you must cancel and reschedule all ACIs when you change your AA password.
Please cancel any ACI you will not use. To cancel a scheduled ACI, select it in Results, and select the Cancel option from the Update Results Options menu.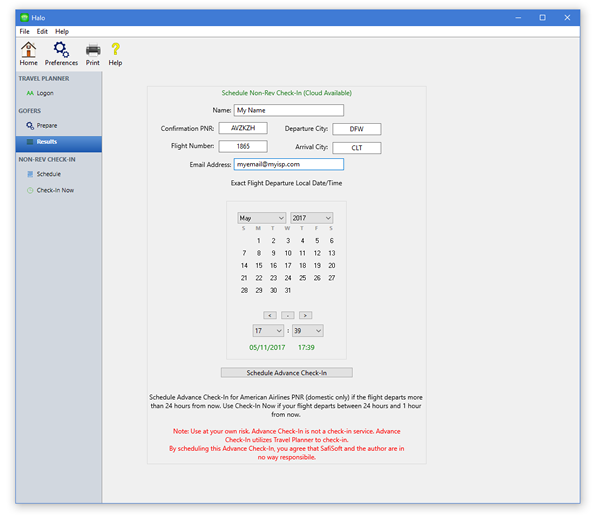 If you want to check in for a confirmation listing (PNR) that departs between 24 hours and 1 hour, select the Check-In Now link.
Enter your confirmation code (PNR) and the departure airport code
Click the Check-In Now button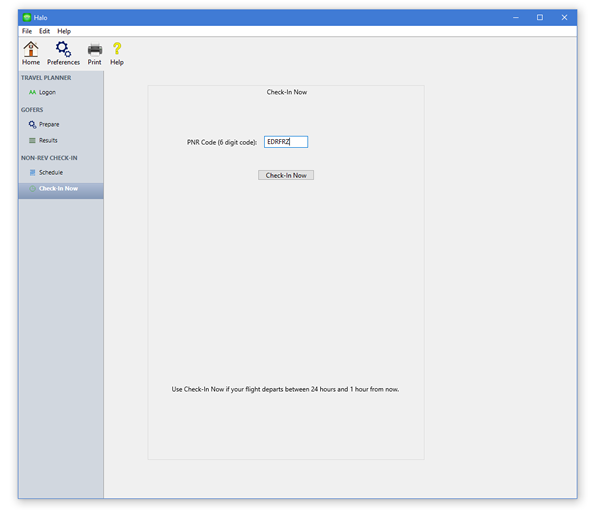 Copyright © 2018 SafiSoft All Rights Reserved
FMDB by Flying Meat, Inc. included under terms and conditions of MIT license
Microsoft and Windows are trademarks of Microsoft Inc., registered in the U.S. and other countries.